---

---
CONCERTS 2019 & 2020
---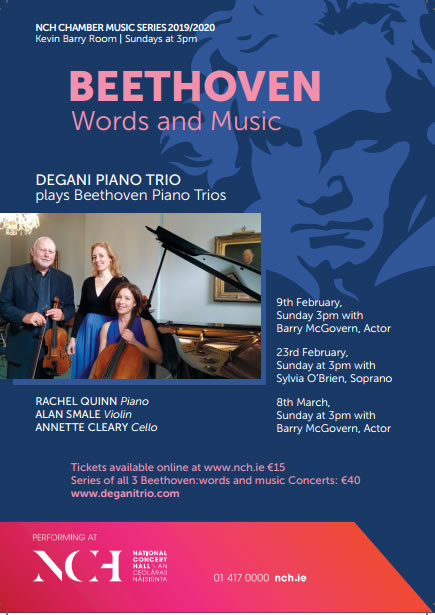 Beethoven – His Loves and Losses with Barry McGovern in Whale Theatre, Sat 18th of January at 8pm, 2020 www.whaletheatre.ie
Beethoven – Words and Music/NCH Chamber Music Series/ Barry McGovern,  9th of February at 3pm, 2020 www.nch.ie
Beethoven – Words and Music/NCH Chamber Music Series/ Sylvia O'Brien, Sun 23rd of February at 3pm, 2020, www.nch.ie
Beethoven-Words and Music/NCH Chamber Music Series/ Barry McGovern, Sun 8th March at 3 pm, 2020, www.nch.ie
---

Beethoven – His Loves and Losses with Barry McGovern in Model Theatre, 'Con Brio' Sligo Music Series 17th November at 3pm, 2019, www.themodel.ie
---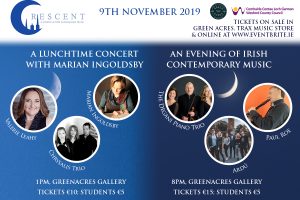 Crescent- A Festival of Irish Contemporary Music, Wexford , Green Acres, Sat 9th of November at 8pm, 2019, www.eventbrite.ie
---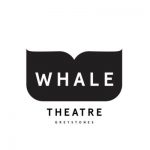 THE WHALE THEATRE
In 2018 the trio had residency in the Whale Theatre, Greystones and presented a series of concerts including a 'Beethoven Evening' featuring the renowned Irish soprano Cara O'Sullivan in arrangements of Irish and Scottish songs and the atmospheric Ghost Trio Op. 70 no 1 in D major by Beethoven.
---
CONCERTS
Upcoming engagements include a very original film music programme that includes music from The Pianist, Elvira Madigan, Barry Lyndon, The Leopard, Il Postino and The Godfather.
---

DISCOGRAPHY
Hadyn's Gipsy Trio and Dvořak's DUMKY TRIO
The Degani Trio has recently released a CD of Haydn's 'Gipsy' Trio & Dvořak's 'Dumky' Trio. Other new releases available online include a Romantic Trio CD of Brahms & Chopin and a much acclaimed CD of Piazzola's exuberant Four Season's Trio tango music.